Adapted and performed by acclaimed British actor, CLIVE FRANCIS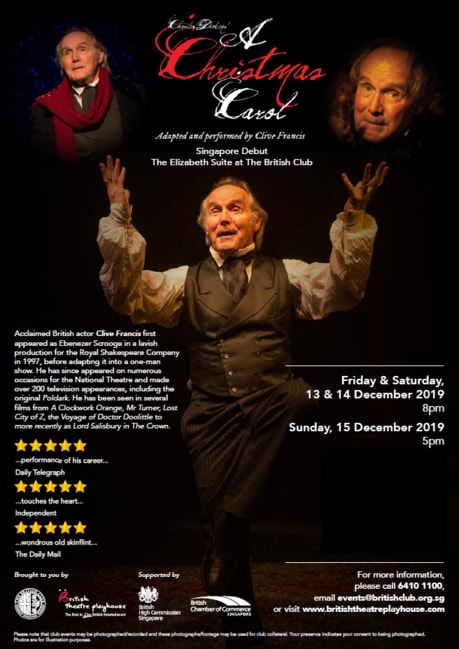 CHARLES DICKEN'S A CHRISTMAS CAROL
Title of the block
Singapore is given a Christmas surprise - the British Theatre Playhouse and The British Club are set to bring out from London, Clive Francis in his one- man presentation of, A CHRISTMAS CAROL, to be held in the Elizabeth Suite of The British Club.
This classic festive story written by the distinguished writer, Charles Dickens, (Oliver Twist, David Copperfield, A Tale of Two Cities, to name but a few!) features the miserly, misanthropic, Ebenezer Scrooge, brought to life in this much-acclaimed performance by the stage, television and film actor Clive Francis - Spellbinding! The Sunday Times.
Ebenezer Scrooge is a cold-hearted miser who despises Christmas, and all that it stands for. He is a squeezing, wrenching, grasping, covetous old sinner! But on Christmas Eve he is visited by the ghost of his old business partner, Jacob Marley, who warns him that in order to repent his wicked ways, Scrooge will be visited by three spirits; the ghosts of Christmas Past, Present and Future. What follows is a nightmarish journey of discovery.
What the press says about us:
A sleight of hand in which, before our very eyes, he fills an empty stage with an entire Dickensian landscape"

Sir Alan Ayckbourn, British playwright and director
Clive Francis is spellbinding. He singlehandedly recreates an entire Dickens novel. By turns gripping, mesmerising, haunting and very movingly he manages in 70 enthralling minutes to construct a whimsical kind of masque. Like a solitary Beckett character, he makes us believe in whatever scene Dickens conjures up, whether its Scrooge on his own in his house or with Bob Cratchit in the office, or watching scenes from past, present and future with the spirit of Christmas, it is all done so convincingly that we willingly suspend our disbelief. It's a marvellous achievement. It's the nearest any of us will get to experiencing Dickens read A Christmas Carol


John O'Brien, LondonTheatre1.com
…performance of his career…


Daily Telegraph
…touches the heart…


Independent
…wondrous old skinflint…


The Daily Mail
Spellbinding!


The Sunday Times