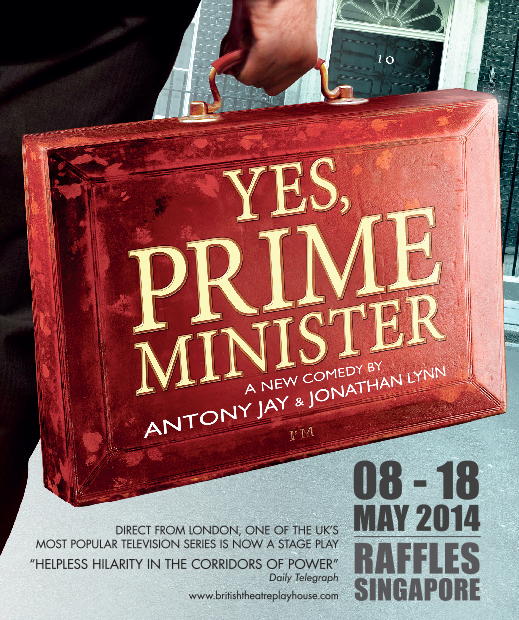 "Yes, Prime Minister" was a virtual sell-out in Singapore.So we added an additional performance to avoid disappointing our patrons. The enduring popularity of "Yes Prime Minister" was reflected in the need to add an extra performance for our production in Singapore to cope with demand for tickets. 
8 May 2014
Opening Night in Singapore
No one could have asked for better opening-night setting for the play on May 8th than Raffles Jubilee Hall Theatre. 

Very Raffles-very Chequers! And none of us could have asked for a more responsive and appreciative audience. 
9 May 2014
Charity Gala Performance and Dinner
The Charity Gala Performance supported by the British Chamber and European Chamber of Commerce in aid of BEAUTIFUL PEOPLE and SINGAPORE COMMITTEE FOR U.N. WOMEN took place on Friday May 9th. Guest of Honour was our superb Patron, His Excellency Anthony Phillipson and his wife, Julie Phillipson. 

We are also honoured to have the distinguished company of HE Dr Michael Pulch, Ambassador and Head of EU Delegation and his wife, Gabriele Pulch at the event.

After the performance,there was an excellent dinner served in Raffles Ballroom. The Gala performance and dinner as well as various auctions over the run of the show raised a total of SGD$45,888 in aid of Beautiful People and Singapore Committee for U.N Women.
12 May 2014
Eden Hall lunch
One of the great pleasures of producing our plays in Singapore is the now customary, informal luncheon for the cast, stage management and producers at the residency of the British High Commissioner, Eden Hall. 

Generously hosted by Anthony and Julie Phillipson (although H.E. was away on this occasion!) it is always a most pleasurable event and this time was no exception. 

Thank you to our fabulous hostess!
17 May 2014
The President Visit
On Saturday 17th May, we welcomed His Excellency President Tony Tan and his wife,Mrs Mary Tan to the performance. 

This was the President and Mrs Tan's third visit to a British Theatre Playhouse production and it's always a great pleasure and honour to have their support.
9 May 2014
BTP Cheque Presentation
The British Theatre Playhouse wishes to thank Mr Sean Boyle and The British Club for kindly hosting a superb lunch and cheque presentation ceremony graced by the British High Commissioner, H.E. Mr Antony Phillipson.

GIVING CHANGES EVERYTHING – at the British Theatre Playhouse, we are committed to our "ART FOR CHARITY" (CSR) programme. 

We have raised a total of SGD$45,888 for BEAUTIFUL PEOPLE www.beautifulpeople.org.sg and SINGAPORE COMMITTEE FOR U.N. WOMEN unwomen-nc.org.sg though our production of 'YES, PRIME MINISTER" and charity gala organised under the Patronage of the British High Commissioner, H.E. Antony Phillipson, presented on 09 May 2014 at Raffles Hotel Singapore.
21 May 2014
YES, PRIME MINISTER IN KUALA LUMPUR
The Shananand Auditorium at the Temple of the Fine Arts was the venue for "Yes, Prime Minister" in KL; our ninth production in the city but the first in this excellent theatre. 

Amongst several distinguished guests at performances, we were especially proud to welcome the Prime Minister of Malaysia, the Honourable Dato' Najib Razak. 

British Theatre Playhouse would also like to express its appreciation for the great support of so many of our productions in KL by Y.A.M. Tunku Naquiyuddin who organised a Charity Performance in aid of Yayasan Tunku Naquiyuddin Foundation. 

Our excellent KL Promoter was Mr Nicholas Pinder who, with Roslan Wilkinson, ensured a most successful and enjoyable week. 

And last but not least, the British Theatre Playhouse and HOMME Productions would like to thank Mr Ray Kyles, Acting British High Commissioner to Malaysia for hosting a 'Welcome Reception' for YES, PRIME MINISTER cast and company members on Tuesday 20th May at the residence of the British High Commissioner.