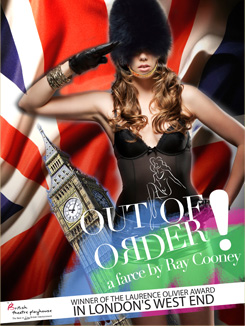 A sell out rip roaring farce by Ray Cooney!
"Out of Order" enjoyed a long run in London's West End at the Shaftesbury Theatre and became one of Ray Cooney's most successful plays, performed around the world in many languages. Proof of its class and pedigree came when the play was awarded the prestigious Laurence Olivier Award as Best New Comedy.
One of Britain's most successful TV stars Robin Kermode played the leading role of "Richard Willey MP" in the British Theatre Playhouse's production of "Out of Order". Robin also appeared as Sir Edward Ramsey in the West End production of "The King and I" at the London Palladium and as John Major in the highly successful, award-winning film "The Iron Lady" with Meryl Streep.
Will a fully-professional all-British cast from the UK and directed by David Warwick who has directed the play five times, including the UK, USA (Miami & Jersey) and Vienna, the show offered the very best of British rip-roaring farce, packed with slap-stick, eccentric characters and Ray Cooney's very special view of UK politics. It had the audiences guffawing with non-stop laughter!
6 April, 2012
Meet-The-Cast Party at Eden Hall
11 April, 2012
Charity Gala Performance and Dinner
Under the patronage of the British High Commissioner, H.E. Antony Phillipson, the Singapore run opened with a Charity Gala performance with dinner after the show, and His Excellency President Tony Tan Keng Yam and Mrs Tan were the Guests of Honour.
This year's charity is The Business Times Budding Artists
Fund. This helps to fund arts training programmes at the Little Arts Academy @ PoMo and a total of $80,500 was raised through the charity gala with live and silent auctions.
The non-stop laughter evening was both memorable and highly entertaining and after the show, guests adjourned to dinner and enjoyed not only the excellent cuisine of Raffles Hotel's Executive Chef but also the superb George Wyndham wines from Wyndham Estate.