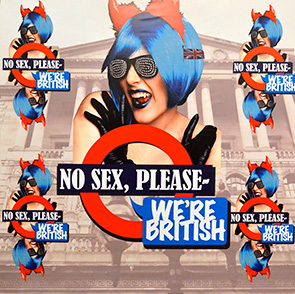 No Sex, Please - We're British
The world's longest running comedy – sixteen continuous years in London's West End made its debut in Singapore and Kuala Lumpur with a terrific cast direct from London. 
Produced by the British Theatre Playhouse, the utterly outrageous and hilarious "No Sex, Please – We're British" starred Michael Crawford, ran for sixteen record-breaking years in London's West End and was made into a successful movie starring Arthur Lowe and Ronnie Corbett. With a cast direct from London, the farce offered our audience an evening where they sat back and laughed, laughed, laughed.
The Opening Night saw our hotel sponsor, Swissotel The Stamford bring their valued guests and made a great evening of it. Indeed, it was a great night out at the theatre at Raffles!

Ensuring a laidback and elegant theatre venue for our customers …




It's so fabulous to welcome our 'Opening Night' guests to the show …

We love it when we hear our sponsors and their guests enjoyed the show and when they tell us how wonderful the cast was in the play.
8 May 2015
Charity Gala Performance and Dinner
It was a fun, dress-up evening to support a good cause — Breast Cancer Foundation. The evening kicked off with pre-show cocktails with Bollinger Champagne sponsored by Bacardi-Martini Singapore. Nice!
The charity gala event brought together leading business leaders and prominent members of Singapore society including Acting British High Commissioner, Judith Slater, the European Union Ambassador, Dr Michael Pulch, ex-Cabinet Minister, Lim Hwee Hua and Past Speaker of Parliament of Singapore and 'non resident' Ambassador to Czech Republic, Tan Soo Khoon to name a few.
14 May 2015
Visit from President Tony Tan
We are delighted to welcome President Tony Tan to the British Theatre Playhouse once again … we were proud to introduce our cast to His Excellency immediately after the show (the cast were still in costumes!).
BTP Cheque Presentation to Breast Cancer Foundation
Mr Sean Boyle, General Manager of The British Club hosted the cheque presentation over a nice lunch at The British Club. The British Theatre Playhouse's art-for-charity events, "Leo Sayer in Singapore" and "No Sex, Please – We're British" raised a total of SGD$52,000.
19 - 22 May 2015
"No Sex, Please - We're British" in Kuala Lumpur
We thank our Patron in Kuala Lumpur, Her Excellency Vicki Treadell for her warm support for "No Sex, Please – We're British", presented at the Majestic Hotel and promoted by Homme Productions. We wish also to thank INTAZ and BAKASA in particular, for organizing a very successful charity event in conjunction with the show. And last but not least, we wish to thank the sponsors, The Majestic Hotel Kuala Lumpur, Green Rubber Global and Jaguar for their warm support.